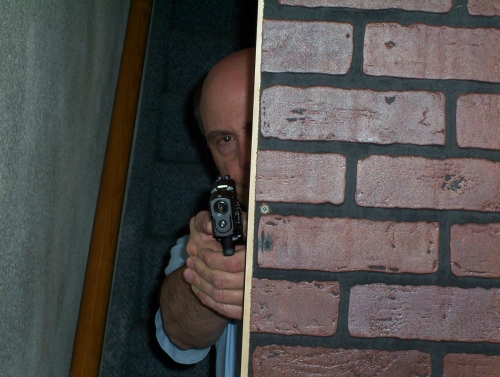 Paul Pucci

, Pucci Associates Co-founder, President and Chief Training Officer
Paul is a retired US Army officer. He is airborne and ranger qualified and served in Germany, Korea, Panama (Operation Just Cause), and the Middle East (Operations Desert Shield and Desert Storm). While in the Army he commanded a tank platoon and commanded an Air Defense Artillery Battery (IHAWK); served as a tactical and strategic intelligence officer, and counterintelligence officer; and branch chief for the economic crime division of the Army Criminal Investigative Command (CID). He has a Master of Arts (MA) degree in Criminal Justice and a Master of Science (MS) degree in Management (Information Systems).
Paul has over 36 years experience as an instructor and instructor-trainer (IT).
He is a NRA Senior Training Counselor (STC), also known as an Instructor-Trainer (I-T), and a Regional Counselor (I-T) for the NRA's Refuse To Be A Victim® (RTBAV) program. As a STC he is authorized to train Instructor candidates and Training Counselor (I-T) candidates. He is a NRA Chief Range Safety Officer (CRSO) and a Fort Carson Range Safety Officer (RSO). He is certified by the states of Utah and Kansas to teach their concealed handgun permit classes. He is a volunteer member of Troop I of the Colorado Mounted Rangers (CMR), the oldest law enforcement agency in Colorado, and is the primary firearms instructor for Troop I. He has successfully completed the Colorado Peace Officer's Standards and Training (P.O.S.T.) Firearms Instructor course. He has written firearms lesson plans for CMR. He continues his firearms education and training through training courses offered by numerous training facilities in Colorado and around the country. He is a Diamond Elite life-time member of Front Sight Firearms Academy and attends at least one of their classes per year.
Paul was originally certified as a scuba diver in 1970 and has been an active scuba instructor since 1980. Currently he is an active Professional Association of Diving Instructors (PADI) Course Director (aka Instructor-Trainer), teaching entry level through instructor levels. Besides the standard courses offered by PADI, he is an I-T for 23 diving specialties. He has been diving all over the world to include the west and east coasts of the US, Florida, numerous other states, Mexico, Chuuk (Truk) Lagoon, Pohnpei, Fiji, Bonaire, the Bahamas (San Salvador), Okinawa, Korea, and others.
His first aid and CPR teaching background is just as extensive. He was originally certified as an American Red Cross CPR, AED, and First Aid Instructor and a CPR for the Professional Rescuer and Health Care Provider Instructor in 1985. He is also certified to teach the Red Cross' Bloodborne Pathogens Training: Preventing Disease Transmission, Administering Emergency Oxygen, and Pet First Aid (Cats and Dogs) programs. He is an American Heart Association Basic Life Support (BLS) for Health Care Providers and First Aid Instructor. Paul is also an Emergency First Response (EFR) I-T for Primary and Secondary Care. He is a Divers Alert Network Diving Emergency Management Program (DEMP) I-T for basic and advanced emergency oxygen administration, first aid for hazardous marine life injuries, on-site neurological assessment for divers, BLS for professionals, and dive medicine for divers level I. He was recently certified as an American Safety and Health Institute (ASHI) Instructor-Trainer for BLS and First Aid. He is currently inactive as a National Safety Council instructor and Medic First Aid I-T.